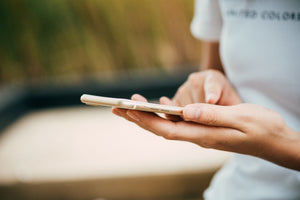 Most people know that iPhones have a range of useful features, but did you know that you can actually use your iPhone to boost your hearing?
This article explains how your iPhone can act as a smart extra aid if you're deaf or hard of hearing.
iPhone Hearing Aids
Those who are iPhone savvy might be able to guess that you can use some hearing aids with your iPhone, nevertheless, it's impressive that Apple has collaborated with manufacturers to create hearing aids and sound processors specially designed to work with their products.
These hearing aids are capable of providing excellent sound quality and boast many useful features such as the option of applying your audiologist's environmental presets as you change your location. 
What's more, they're relatively simple to set up and you use them just like other Bluetooth devices. 
Can You Use Your iPhone as a Hearing Aid? 
There is a range of functionalities that allow you to use your iPhone as a hearing aid.
Live Listen is a popular Apple feature that you can use with Made for iPhone hearing aids, AirPods, AirPods Pro and sound processors. It lets you hear others more clearly when in loud places, as your device's microphone can listen to the noises around you and send them directly to your hearing device as amplified sound.
Other Accessibility Features
Noise App
Apple's Noise App allows you to keep track of your hearing health by monitoring the decibel levels of ambient sounds in your immediate environment. Why is this useful? Well, it can show you when noise levels are so high that they might be negatively impacting your hearing, helping you to avoid them. It even stores the data in your Health App.
Mono Audio
Recorded audio usually has two channels for your left and right ear. Your iPhone's Mono Audio feature means that both audio channels play in both ears. You'll be in charge of adjusting the balance between your ears. This means you'll get the most out of your audio and won't miss anything due to being hard of hearing in one ear.
Software Textphone
Software Textphone allows you to make and receive Textphone calls on your iPhone without Textphone hardware. Transcripts for these calls will be saved for future reference, or for you to delete, in the call history of the Phone app. 
LED notifications
You might already be familiar with iPhone's ability to produce both visual and vibrating alerts for messages, calls, and notifications. But there's also an LED flash setting that sets a flashing light to come on when you receive an alert. If you're hard of hearing, this is a great advantage, especially when your phone is on a table a few feet away.
Type to Siri
In iOS 11 or later, the famous Apple assistant Siri has an additional accessibility option that allows you to set Siri to 'Type to Siri' mode. This allows you to use your onscreen keyboard to ask questions and issue commands to Siri.
Video and Text chat
Again, if you have an iPhone, you might already be using FaceTime. However, if you're not, this is a valuable video chat tool that can make it easier for you to communicate with others through your phone. You'll be able to see every gesture and facial expression in a high-quality video with a fast frame rate, allowing you to use sign language, lip read, or just pick up on subtle body language cues. Luckily, Mac, iPhone, iPad, and iPod touch all come with FaceTime.
If you're not wearing your hearing aids or are just too tired to talk on the phone, of course, you can still chat through type with iMessage. You can chat one on one or in a group, send unlimited messages to anyone on an iPhone, iPad, iPod touch, Apple Watch, or Mac, and even share photos, links, videos, or your location.
Subtitles on iTunes
You have the option to watch films, TV programs, and podcasts with closed captions, open captions, and subtitles (in different styles and sized fonts) on your iPhone. Keep an eye out for the CC icon when choosing a film from the iTunes Store or find captioned podcasts in iTunes U.
If you're deaf-blind, iPhone allows VoiceOver users to access closed caption and subtitle tracks through their Braille displays.
This might seem like an overwhelming list of accessibility options, but you're able to pick and choose which you would like to use. See the accessibility section on the Apple website to learn how to use these features and enable them in your settings.
Made for iPhone Hearing Devices  
You can connect specific 'Made for iPhone' hearing devices to your iPhone, iPad, or iPod touch, so you can easily do actions such as take calls, stream audio, and adjust settings. 
To use these devices you need to ensure that you have one of the following Apple products:
iPhone 5 or later

iPad Pro (all models)

iPad Air (all models)

iPad (4th generation) or later

iPad mini (all models)

iPod touch (5th generation) or later
Some Personal Sound Amplification Products (PSAPs) will be made for the iPhone. These aren't to be used as a hearing aid replacement and aren't suitable for those with hearing loss. However, if you have mild hearing difficulties, these devices are much cheaper than hearing aids and can still provide personalized sound amplification, helping you to hear sounds around you.
What Hearing Aids Can Be Used With iPhone? 
Hearing aids that are compatible with your iPhone include those from brands such as:
AGXO 

Amplifon

Aquitis

Audibel

Audigy

Audika

Audio Service

Auris

Beltone

Bernafon

Cochlear

Concept

Danavox

EarLens

EarQ

eMeritus
You will still need to check if your specific model is compatible with your iPhone. If you're looking to use a PSAP with your iPhone, make sure you check the product specifications before purchasing.
Benefits of Using Hearing Aids With iPhone  
Using hearing aids with your iPhone gives you the benefit of being able to access your music and calls from the same device.
As you're able to customize your hearing aids with your iPhone, you don't need to rely on making an appointment with your audiologist for every change. Of course, if you think you have hearing loss you should still see a medical professional to have a hearing test and to discuss the best treatment options for you. Standard hearing aids need to be fitted to your needs by an audiologist, but Made for iPhone hearing aids will allow you to make some modifications yourself.
Don't Have Hearing Loss? Consider a Personal Sound Amplification Product (PSAP)
If you don't have hearing loss but have mild hearing difficulties and would like to benefit from sound amplification, it is much cheaper to purchase a PSAP than a hearing aid as you'll likely be paying for features surplus to your requirements.
The Olive Smart Ear enhances conversations in noisy places, and can be used with or without a smartphone once setup is complete. Like AirPods and other PSAPs, the Olive Smart Ear doesn't require a professional fitting but is equipped with powerful customizable features. 
The Olive Smart Ear is rechargeable, portable, you can make calls and listen to music through the device, and it has touch control. The smartphone app also allows you to access features such as sound modes and customizable EQ. All that's required is iOS 11 or later or Android 4.4.3 or later.
Read our fantastic reviews, here.
The information in this guide has been written using the following reliable sources:
https://www.apple.com/uk/accessibility/iphone/hearing/
https://www.bustle.com/articles/161694-4-hidden-iphone-tricks-for-individuals-with-hearing-impairments 
https://www.hear.com/hearing-aids/iphone
https://www.imore.com/how-connect-hearing-aids-auditory-accessibility-your-iphone-or-ipad