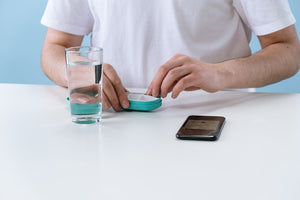 For many people that suffer from moderate to severe hearing loss, hearing aids are a lifeline - they greatly improve a person's ability to hear the sounds they used to and communicate with family and friends. In turn, this allows the person to socialize and lead a full and active life. With hearing aids, a hearing impaired person can participate in all of the activities that normal hearing people take for granted, such as working, driving, shopping, talking on the phone, and watching TV at a normal volume level.
However, the quality of life improvement that comes with hearing aids is not cheap. Hearing aids can cost anywhere from $1,000 to $6,000 per device, and most people need two, one for each ear. Hearing aids are also small and at high risk of being damaged. They can be forgotten or misplaced easily, left in an article of clothing and put through the wash, or crushed underfoot.
For how important hearing aids are to your life and how expensive they are, you should protect your hearing aids. Whenever your hearing aids are not in your ears, such as when you're in the pool or shower, getting a haircut, or sleeping, you need to keep your hearing aids safe. The best way to do that is with a hearing aid case.
Why You Need a Hearing Aid Case


To keep your hearing aids functioning and get the most life out of them, you need to store them properly. Hearing aid cases are instrumental in keeping your hearing aids safe when you're not using them. There are many factors that can affect the longevity of your hearing aids, including:
Dirt and bacteria: your hearing aids are constantly being exposed to dirt, wax, bacteria, and other germs, especially when they're in your ears. A good hearing aid case incorporates technology that kills germs.

Moisture: hearing aids are constantly being exposed to moisture, whether it's an accidental drop in the tub, sweat from your ears, or just high environmental humidity. A good hearing aid case should also incorporate a dehumidifier.

Pets and children: pets and children are notorious for grabbing hearing aids that are left on a table and dragging them around and breaking important components.

Heat and cold: extremes of heat or cold can wreak havoc on your hearing aids by damaging delicate electronics or tubing.
Different Types of Cases


There are many different kinds and styles of hearing aid cases. Most are designed to be compact so that they can fit into your purse, coat pocket, or briefcase. Styles include:
Basic: basic hearing aid cases come in different colors and finishes; they usually have a safe grip on the sides, the interior has enough room for one set of hearing aids, and the case easily fits into a pocket.

Premium: premium cases offer the highest quality materials and the most function; they often have spaces not only for your hearing aids, but also for extra batteries and cleaning kits. They are made from strong materials such as hard plastic and usually have a magnetic closure system to lock your hearing aids securely in the case.

Value: these types of cases are usually constructed from laminated cardboard or soft vinyl or leather and come in many colors; these cases usually don't offer much space beyond your hearing aids are primarily designed to keep you from forgetting your hearing aids and keeping dust off of them, and not so much protecting them.

Although most hearing aids are water-resistant and come with a pre-applied nano-coating to help protect electrical components against water intrusion, it's still a good idea to keep your hearing aids as dry as possible. Particularly if you live in a humid part of the country, the high humidity over time can seep into your hearing aids and begin to corrode delicate parts. Therefore, it's recommended that when you are at home, you store your hearing aids in a dehumidifier or hearing aid dryer. These types of cases have the same function, to keep your hearing aids dry or dry them out, but they function slightly differently:
Dehumidifiers: these types of cases are usually cheaper than hearing aid dryers because they contain no moving parts; they are similar to regular cases, with recesses to place your hearing aids, but they also have a section that contains a desiccant pad or gel. This pad or gel draws moisture out of your hearing aids while you sleep.

Hearing Aid Dryer: hearing aid dryers are more expensive options than dehumidifiers because they contain electric fans and heaters that remove moisture and dry your hearing aids. Some dryers also emit ultraviolet wavelengths that kill bacteria and other microorganisms and sanitize your hearing aids. Most models are designed to sit on your bedside table and dry your hearing aids while you sleep, but some travel-sized models are available.
Features to Look for in a Hearing Aid Case


Hearing aids are a big investment, and protecting that investment should be a priority. There are many hearing aid cases on the market, and some have all of the features that ensure that your hearing aids are clean, safe, and dry. But not all of them do. Some features you should keep in mind when shopping for a hearing aid case include:
Durability: some hearing aid cases are soft pouches, and while this may keep your hearing aids free of dust, a soft pouch won't help if you sit or step on it. There are plenty of hearing aid cases that are constructed of heavy duty ABS plastic or even military-grade aluminum; these cases are water resistant, crush resistant, UV resistant, and lightweight.

Anti-germ and Dehumidifying Technology: your travel case may not be able to have germicidal and dehumidifying properties (although some do), but your home case should absolutely clean and dry your hearing aids while you sleep. This will keep them functioning their best and make cleaning them much easier.

Battery Compartment: whether your case includes dehumidifying technology or not, when you go to sleep, you should remove your hearing aid batteries; a key convenience is a hearing aid case that includes a compartment to store your main batteries and a backup set.

Cleaning Kit: cleaning your hearing aids daily is important for keeping them functioning optimally; so you want to have your cleaning kit near your hearing aids. Some cases even come with a cleaning kit, but even if they don't an ideal case has a compartment for storing your cleaning kit.
The information in this guide has been written using the following reliable sources:
https://www.truhearing.com/getstarted/how-to-store-your-hearing-aids-safely/
http://valuehearingcare.com/hearing-aid-cases/
https://gulfgatehearing.com/blog/dos-donts-hearing-aids/
https://us.hearingdirect.com/blogs/blog/5-reasons-to-use-a-storage-case-for-your-hearing-aid
https://www.healthyhearing.com/report/52988-The-aidkeeper-one-man-s-journey-to-create-an-indestructible-hearing-aid-case