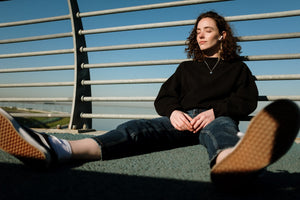 In August of 2017, the Over-the-Counter Hearing Act was signed into law in order to increase both the accessibility of hearing aids and consumers' options. The FDA was required as part of this new law to create a new category for these over-the-counter hearing aids to ensure that they meet safety and quality standards. As a result, the market is starting to see a number of earbuds, or personal sound amplification products (PSAPs), that are designed to help people with mild-to-moderate hearing loss. These new earbuds feature a variety of functions, and while they might not be a replacement for hearing aids yet they're on their way.
Airpods Have a Hearing Aid Function
Likely the most popular and well known earbuds on the market, the Airpods, are one example of the potential these new PSAPs hold.  With a function called "Live Listen" that is available on all iPhone X models and newer, Apple has entered the realm of assisted hearing devices. They way it works is surprisingly simple; 
Using your smartphones microphone, surrounding sound is picked up, amplified, and then sent to your wireless AirPods - effectively turning your phone into a basic hearing aid. The function isn't perfect, however: the incoming sound needs to be processed and then sent to the AirPods, which involves a noticeable delay. In addition, because all sound is picked up and amplified the effectiveness sharply decreases in louder areas, where sounds become muddled together and indistinguishable
Apple's more expensive AirPods Pro even feature noise cancellation technology; an external microphone is built into the outside of the AirPods, which measures and mitigates ambient noise. The microphone does more, too: it can help determine if you have fitted the AirPods properly in your ear. Traditionally performed by an audiologist, your iPhone can now test the fit of your AirPods in each ear. It accomplishes this by playing music in each ear; the external microphone on each AirPod can detect sound leaking out and tell you when you have a good fit. The device can also make dynamic changes to the sound quality if the fit changes due to movement, for example. This is very similar to the measurement and test fitting of hearing aids that happens at a hearing clinic.
How Earbuds and Hearing Aids Are Starting To Merge
The appearance of these new PSAPs may be starting to threaten the hearing aid market, especially with tech giants such as Apple and Samsung starting to enter the assisted hearing device market. These devices look cool and utilize more and more sophisticated technology such as noise cancellation, Bluetooth for making and receiving phone calls, streaming audio, and even workout monitoring. Because they are wireless, they have their own power source. They have built-in microphones, better control of external noise, and they are getting progressively smaller.
Soon, consumers may have a difficult time telling the difference between an over-the-counter smart earbud and a medical hearing aid prescribed by a hearing professional. They may even prefer the over-the-counter options, especially because they look much more like Bluetooth accessories than traditional hearing aids. Indeed, companies who manufacture hearing aids are starting to take notice. They're designing them to look more like smart earbuds in the hopes that more people will be willing to wear them without feeling self-conscious.
Innovative Smart Earbud Technology In Olive Union's Smart Ear
A newcomer in the PSAP market is the Olive Smart Ear, a sleek looking earbud that provides many of the functions that consumers are looking for in a smart earbud. 
Olive Union's Smart Ear offers wireless Bluetooth technology, and so it can pair with any smartphone and be used to stream audio and answer incoming phone calls. The Smart Ear is sold presently as a single-ear device, which means that it offers no stereo capabilities when listening to music. However, the user can achieve stereo function by purchasing two Smart Ear's and pairing them both to the same smartphone. 

The Smart Ear offers an accompanying app that is freely downloadable for both iOS and Android smartphones. Within the app, Smart Ear users can truly customize their hearing experience using the built in equalizer and sound calibration test. 
Despite the many functions it offers, the Smart Ear may be a better choice for someone who is not so tech-savvy! With an easy step by step set up guide and intuitive touch controls, the Smart Ear is one of the easiest to use devices on the market.
----------------------------------------------------------------------------------------------------------
As technology continues to improve, the line between earbuds and hearing aids will only become blurrier. For those with hearing loss or hearing issues, a new dawn is rising over the horizon.  
For a look at what this new generation holds, check Olive Union's all new Olive Pro, set to release later this year. 
The information in this guide has been written using the following reliable sources: 
https://www.congress.gov/bill/115th-congress/senate-bill/670
https://www.engadget.com/2018-01-14-assistive-hearing-wireless-earbuds-bragi-nuheara.html
https://journals.lww.com/thehearingjournal/Fulltext/2017/03000/Smart_Earbuds___A_Looming_Threat_to_the_Hearing.1.aspx
https://www.technologyreview.com/2017/08/14/149912/how-your-apple-wireless-earbuds-could-double-hearing-aids/
https://www.consumeraffairs.com/news/technology-in-audio-wearables-creates-a-blur-between-earbuds-and-hearing-aids-011020.html
https://clearlifehearing.com/blog/could-apple-airpods-pro-kill-the-hearing-aid-industry
https://www.cnbc.com/2019/01/20/how-to-turn-airpods-into-hearing-aids.html